Symposium créer/performer/conserver
Thuya : un conte des deux Antoine
Les questions les plus juteuses, les seules au fond qui valent la peine d'être posées, sont celles sans réponses. Les réponses ne sont qu'une façon de laisser tomber les questions afin qu'elles ne reviennent plus jamais nous déranger. Seulement si l'on en vient à ignorer l'impératif de nouvelles lois, de nouvel ordre, une bonne question pourrait tout aussi bien devenir un moteur, un nouveau médium, une perspective débordante. L'incertitude, la frustration, et l'échec sont-ils devenus les co-auteurs souterrains de certaines œuvres parmi les plus accomplies, aujourd'hui ?
Nous ne demandons qu'à comprendre : pourquoi les films d'artistes ressemblent tant à des films d'artistes ? Pourquoi tant de films d'artistes sont-ils instantanément identifiables comme films d'artistes ? Et à quel moment des pratiques artistiques aussi aberrantes sont-elles devenues un genre prévisible et normatif, là pour rassurer les universitaires ronflants, régi par des formats et par des codes prédéfinis ? Nous comprenons bien que l'imitation est la forme la plus sincère de flatterie, mais au fil des ans le cinéma « fringe » s'est dangereusement rapproché des comédies romantiques et des films de super-héros. N'avons-nous pas vu ça auparavant ? De grâce, pas encore une étude sur le paysage, pas un autre processus artisanal, d'expérimentation sur la durée, de performance pour la caméra, de supercut d'images trouvées.
Posons la question à l'envers. Où sont les fous ? Ceux qui ne rentrent pas dans le moule ? Les débauchés, les inclassables, les radicaux ? 
Et voilà que surviennent sur la scène, à droite, les deux Antoine, artistes originaires d'Arthabaska, Québec. À gauche, se trouve leur mini-épopée Thuya (Antoine Larocque et Antoine Provencher, 2018), intitulée d'après une variété de cèdre qui pousse au Québec. La première chose que l'on note, c'est que leur film ne fait pas beaucoup d'efforts pour bien paraître, ni ne s'assoit sur une espèce de trône de glitch, nimbé de pertes de génération et de grain, arguant de mauvais-est-bon, brandissant la-défense-de-l'image-pauvre comme mécanismes de défense. En fait, le manque de professionnalisme de ce film est désarmant. Et osons-le dire, certains artistes ne devraient tout simplement pas quitter leur job… mais ces artistes n'en veulent même pas. Ces artistes engrangent le fric grâce à un système complexe qu'ils ont mis en place pour gagner au télébingo. Nous partons du bon pied.
THUYA : le film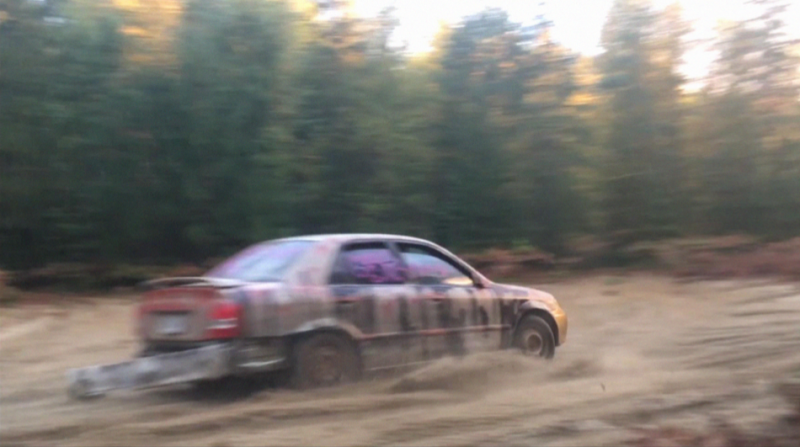 Après une introduction cryptique dans l'espace psychique occupé par le jeu en direct de ton salon tous les dimanches, Thuya entraîne qui le regarde sur la route ou, plus précisément, sur un sentier sablonneux en forêt. La voiture semble en feu, avec personne au volant. Et tandis que ce véhicule destructeur avale la forêt non sans créer sa propre mini-catastrophe écologique, échappant son pare-chocs près d'une Vierge Marie ornant une pelouse vautrée, les cinéastes eux, cartographient en sourdine un paysage rural rompu au monde contemporain et du même souffle, certaines des façons dont il pourrait être exploité. En arrière-plan, on entend la musique du pionnier du blues George Thorogood, ce qui suggère que ceux qui occupent actuellement ce terrain sont b-b-b-bad to the bone — m-m-m-mauvais jusqu'à l'os. Thuya semble ainsi se comporter de façon aussi imprudente que son conducteur, accélérant comme un fou sur le sentier forestier pendant que la voiture s'effondre, une pièce à la fois (après le pare-chocs, le rétroviseur latéral est perdu alors que la voiture déchire le feuillage).
Ce film est une sorte de tranche de vie dans ce Québec rural où l'on fume du pot à la bouteille, entre deux baignades estivales en rivière, avec, pas très loin, des pêcheurs en vacances qui débitent leurs salades. Sournoisement, les cinéastes nous font comprendre qu'il ne s'agit pas d'une unique escapade, puisqu'ils montrent l'un des observateurs dans la même posture, au bord de la même rivière, sur la même chaise de jardin, lors d'un autre moment, différent. Un peu plus tard, on se retrouve tour à tour dans un bar-salon, devant un spectacle de motoneiges, dans un casino de garage, et devant un « show » de mobylettes de stationnement. Comme dans les premiers films de Robert Morin, on sent une conscience de soi, un sens de l'ironie, une intimité, une familiarité, un art de la joie. Et puis, les cadrages, le point de vue, intègrent les filmeurs, comme des gens qui font partie de l'action (en-dehors du tournage). Et voilà qu'on se dit : il s'agit du portrait d'une communauté réalisé par des initiés.
Une certaine culture populaire québécoise y est célébrée. Dans une autre scène, le paysage est dominé par des sculptures, château de béton tenant la main à des arbres taillés. En toute ironie, sur de la musique rock générique, le film présente aussi ce sport qui n'a bien pu se développer qu'au Québec, « la Motoneige sur l'eau ».
Au bar, une caméra cachée filme une femme qui chante joyeusement les paroles de la chanson Tsé quand ça va ben. Quand elle chante « que tu travailles pas demain », l'ironie du sort accompagne le rythme de la musique. La femme ajoute aussitôt : « Je travaille demain, man ». Puis, nous voilà dans une voiture qui dépasse rapidement un Campagna T-Rex (luxueux véhicule à trois roues, conçu au Québec, avec un moteur BMW). Les vitres baissées, quelqu'un dans la voiture crie à tue-tête, « Avance, osti de sans-dessein, tabarnak ! » Voici cette culture, voici ce film, brutal, rapide et furieux. Avance, osti de sans-dessein, tabarnak !
Peut-être qu'après tout, la pratique documentaire peut soulager le film d'art d'être un film d'art. Peut-être que les populations rurales, les acteurs non-professionnels, les prolétaires, les sous-prolétaires peuvent faire l'avant-garde. Ou peut-être que cela gâcherait tout (encore une fois). Pour l'instant, il y a les deux Antoine. Ils ne comprennent pas tout, mais cela fait aussi partie de la façon dont ils comprennent tout. La honte, l'orgueil, les cicatrices, pourquoi ne pas passer du temps avec nos semblables et les capter en même temps. Comme si faire des films était une manière d'être au monde plutôt que de le fuir. Comme une question à laquelle on ne peut pas répondre.
Dans chaque plan, je veux sentir une vie animale profonde et rétive s'agiter.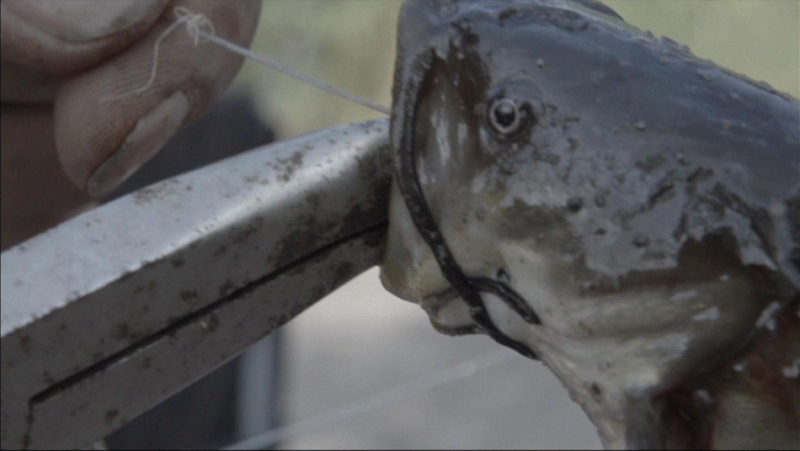 Traduction : Charlotte Brady-Savignac et Maude Trottier
Thuya : A Tale of the two Antoines
The juiciest questions, the only ones worth asking really, are those without answers. Answers are the way we throw away questions, so they'll never come round to bother us again. But without new laws and commandments to rely on, the right question can become a motor, a new form of media, an endless surplus of new possibilities. Uncertainty, frustration, and failure have become co-authors of some of the best work made today.
Riddle me this. Why do movies by artists tend to look like movies by artists? I mean: why are so many instantly identifiable? When exactly did these outlier practices become a genre—predicable and normative, safe enough for conservative scholars, ruled by templates and code adherence? I understand that imitation is the sincerest form of flattery, but over the years, fringe movies have begun to look like rom-coms or superhero flicks. Haven't we seen all this before? Oh please not another landscape study, or hand-processed anything, durational observations, performance for camera, or found footage supercut.

Let's pose the question from the other direction. Where are the weirdos? The ones who don't fit in? The misfits, the uncategorizable, the radicals?
Enter stage right, the two Antoines, two artists hailing from Arthabaska, Québec. Stage left is their mini-epic Thuya (Antoine Larocque and Antoine Provencher, 2018), named after a form of cedar that flourishes in Québec. The first thing one notices about their movie is that it makes little effort to look good, nor is it sitting on a glitch throne, surrounded by generational loss and grain, offering bad-is-good, in-defense-of-the-poor-image defence mechanisms. Its lack of professionalism disarms me. Some artists shouldn't quit their day jobs, but these artists don't even want one. They make their money using a complex system they schemed up to win at Télé-bingo. We're off to a good start.
THUYA : The Movie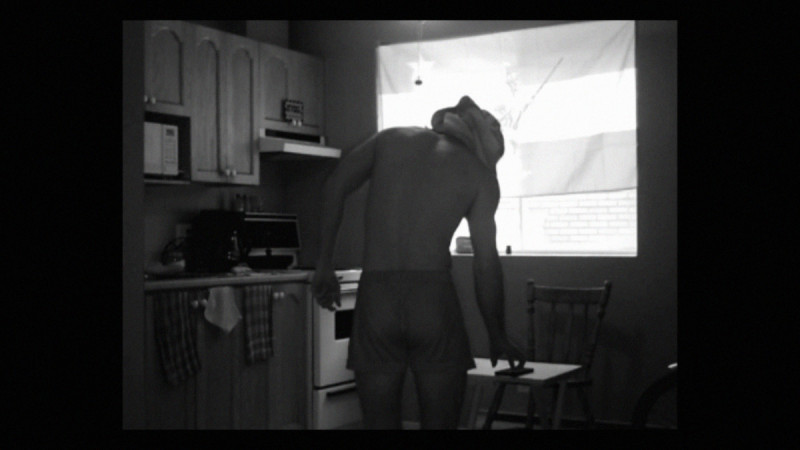 After a cryptic introduction to the psychic space occupied by le jeu en direct de ton salon tous les dimanches, the film takes us on the road, or more precisely, down a sandy forest path. It seems the car's on fire and there's no one at the wheel. As a demolition car tears through the forest creating its own mini-ecological disaster, dropping its bumper near an abandoned Virgin Mary lawn ornament, the filmmakers begin mapping out a contemporary rural landscape and some of the ways it might be utilized. In the background, we hear the music of blues philosopher George Thorogood, encouraging us to believe those who currently occupy this land are b-b-b-bad to the bone. The film feels as reckless as the driver speeding through the forest path while the car falls apart one piece at a time (after the bumper, the side mirror is lost while the car rips through the foliage). 

The movie offers us a slice of life in rural Québec, where summer days are spent smoking pot out of home-made water bottle pipes in between river swims, while recreational fishermen offer tall tales. The filmmakers slyly reveal that this isn't a one-time outing by showing one of the riverside observers holding court in the same posture, on the same lawn chair, on an entirely different day. Later, we are invited to a bar salon, a skidoo show, a DIY garage casino and a parking lot scooter demo. Like the early work of Robert Morin, there is both a self-awareness and a sense of irony, but there is also an intimacy, a familiarity, and a real sense of enjoyment. These frames, this point of view, looks back at its makers, offering us a portrait of someone who would be part of the action even if the camera wasn't turned on. It is a community portrait made by insiders. 

Québec folk culture is celebrated throughout the film. In one scene, we are introduced to a landscape dominated by concrete sculptures complete with a castle and two trees groomed to look as though they are figures holding hands. The film also showcases, with much deserved irony and royalty-free rock music, a sport which could only have developed in Québec—Motoneige sur l'eau, that is, skidoo racing on water.

While in the bar, in a "secret recording," a woman joyfully sings along with the lyrics to the folk song "Tsé quand ça va ben." When she sings the line "que tu travailles pas demain," not a beat passes before she realizes the cosmic irony. She immediately adds, in a voice dripping with disappointment: "Je travaille demain, man." At another point we are in a car that speedily passes a Campagna T-Rex (a luxury three-wheeled motor vehicle designed in Quebec with a BMW motor). With the windows rolled down, someone in the car yells at the high-end eyesore, "Advance, osti de sans dessein, tabarnak!" The film, like the culture it is documenting, is rough, fast, and furious. Avance, osti de sans-dessein, tabarnak!
Perhaps documentary practice can deliver us from the traditions of the untraditional after all. Maybe the rural, the unprofessional, the underclass might find a place in the cherished honour rolls of the avant-garde. Or maybe that would spoil the whole thing (again). For now, let's give two bows to the Antoines. They didn't get it all right, but that's also part of the way they got it right. The shame, the pride, the scars, they seem unafraid to hang out with their fellow humans and get it down on tape at the same time. As if making movies were a part of living, instead of an escape from it. Like a question that can't be answered.
In every frame I can feel a deep and restive animal life stirring.